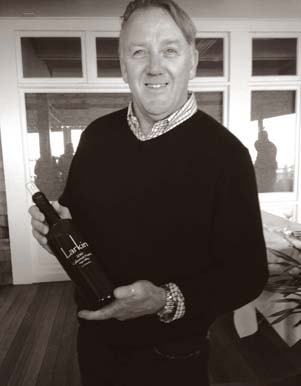 A native of Inverkeithing, a port town in Fife, Scotland, Sean Larkin emigrated in 1979 to New Jersey, where he began his first career as a sheet metal worker.

Despite considerable success in the metal business, Sean's love of wine inspired him switch gears and begin training as a sommelier. After working in a handful of top New Jersey restaurants, Sean moved to Napa Valley to accept a position with a wine brokerage house that specialized in representing small, super-premium Napa Valley wineries. During his time as a broker, Sean established friendships with prominent winemakers, who began to teach him their craft.

It wasn't long thereafter that Sean launched his own small brokerage, seeking out and representing boutique producers of interesting, unique wines – and began pursuing the idea of making his own wines. Larkin Wines' first vintage came in 1999. The focus was on Cabernet Franc, a varietal he felt had been given scant attention as a stand-alone varietal by California vintners. In very short order his wine was discovered by the public and press, and Sean expanded the line-up to include a Napa Valley Cabernet Sauvignon.

Sean closed his brokerage to devote all his energies to making and marketing Larkin Wines. With the 2004 vintage, he introduced a new label, Jack Larkin, named after his newborn son. Jack Larkin wines consist primarily of small lots of Cabernet Sauvignon and Merlot from select vineyards, and most recently, a very small run of Napa Valley Chardonnay.

Today, while production still remains modest, Larkin and Jack Larkin can be found in select markets (and finer restaurants) across the US, and through the mailing list.